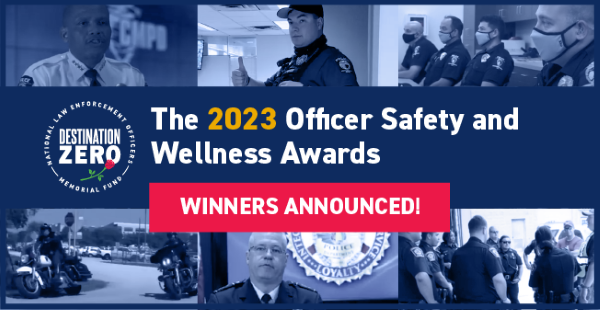 National Law Enforcement Officers Memorial Fund Announces 2023 National Officer Safety and Wellness Award Winners
The National Law Enforcement Officers Memorial Fund (NLEOMF) recently issued a press release announcing the five winning agencies of the 2023 Destination Zero National Officer Safety and Wellness Awards. We look forward to honoring their achievements during National Police Weekend on September 29th at the National Law Enforcement Museum in Washington, D.C.
---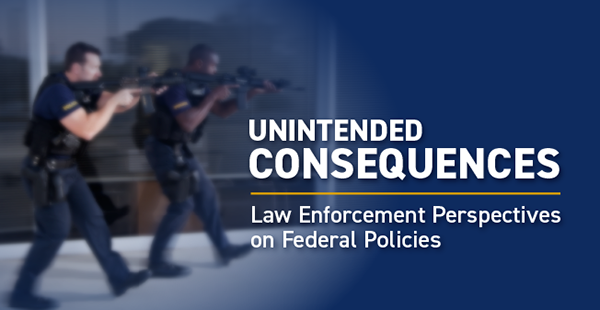 Unintended Consequences
July 27, 2023
To be Livestreamed: 2:00pm - 3:30pm Eastern
The National Law Enforcement Museum will engage members of the law enforcement community in a discussion on the impact of unfunded policy decisions by federal agencies on officers who are required to enforce them. Throughout history officers have put their lives on the line to protect citizens and keep our country safe; however, in some instances there have been policy decisions that led to more harm than good. This program will shed light on the historic moments in our nation that should encourage lawmakers and law enforcement officers to work together to ensure we are able to keep both our communities and the officers who serve them safe.
Moderator:
Diane Goldstein, Executive Director, Law Enforcement Action Partnership
Participants:
Chief Rodney Bryant, Atlanta PD (Ret.), National First Vice President, NOBLE
Jon Adler, President, FLEOA Foundation
Peter Forcelli, Deputy Assistant Director, ATF (Ret.)
Michelle Minton, Senior Policy Analyst, Reason Foundation
---
Join Our Facebook Group!
The Ambassador Program is pleased to announce that our Facebook group is now open to new members! Joining our Facebook group is a great way to connect with other like-minded individuals who are passionate about our profession and mission. By joining the group, you will have access to exclusive content, such as upcoming events, and volunteer opportunities. You will also be able to interact with other Ambassadors, share your experiences, and learn from each other. Being part of this community will not only help you stay informed and engaged, but it will also give you a sense of belonging to something bigger than yourself. Join us today and become part of our Ambassador family!
---
Ambassador Highlight: Robert Bowling
Robert Bowling is a retired police officer with 20 years of experience from Durham, North Carolina, and Fishers, Indiana. Most of his career was spent on the road, except for the last two years when he became a School Resource Officer. During his career, he served as a forensic evidence technician, field training officer, accident reconstructionist, mental health/crisis team member, and hostage negotiator. Then after retirement, he became a high school criminal justice teacher.
---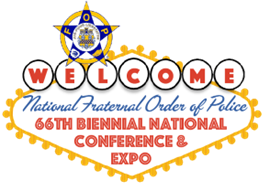 We Will See You in Las Vegas!
Join the NLEOMF Officer Safety and Wellness Team in Las Vegas at the Fraternal Order of Police (FOP) 66th Biennial National Conference & Expo. We will be exhibiting at booth 612 from August 12-14th and have all new collateral and literature about our safety and wellness programs including Destination Zero, the Ambassador Program, SAFLEO and NHTSA.
---
2nd Quarter NHTSA Webinar Now Available
During this quarterly installment of the NHTSA (National Highway Traffic Safety Administration) webinars, Captain Peter Cimbal from the Chesterfield County (VA) Police Department presented on his agency's officer traffic safety program. He then described the steps his department had taken to reduce vehicle crashes, struck-by crashes and to keep his officers safe on the roadways. Then, Nick Breul from the National Law Enforcement Officers Memorial Fund presented the most current crash data for 2023 and compared and contrasted that with 2022 and 2021.